SecureChange's objective is to develop techniques and tools that ensure "lifelong" compliance to evolving security, privacy and dependability requirements for a long-running evolving software system.
Submitted by securechange on Sat, 2009-04-11 22:55
On the first week of April the second SecureChange meeting was organized at INRIA in Lille, where the partners held an internal training workshop to share their backgrounds with the others.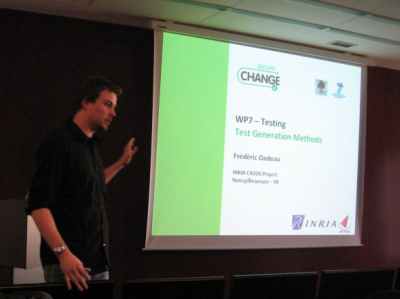 In the beginning of the workshop Open University and later Thales presented their security modeling notations and tools. In the afternoon, the techniques and tools for model-based testing were introduced by INRIA, Smartesting and University of Innsbruck.
Submitted by securechange on Fri, 2009-03-20 23:48
The European Future Technologies Conference, FET09, is a new European forum dedicated to frontier research in future and emerging information technologies. Leading scientists, policy-makers, industry representatives and science journalists will convene over 3 days to discuss today's frontier science, tomorrow's technologies and the impact of both on tomorrow's society.