Telefonica Investigacion y Desarrollo Sociedad Anonima Unipersonal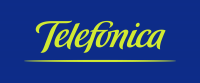 Telefónica Investigación y Desarrollo (I+D) is the innovation company of the Telefónica Group. Owned 100% by Telefónica, this subsidiary was formed it 1988, with the aim of strengthening the Group's competitiveness through technological innovation.
Since it was founded in March 1988, its results have been directed at creating value for the clients of the Group, developing high-quality telecommunication products, services and systems. In this way, it helps meet their present needs, and, at the same time, creates innovative solutions in anticipation of future challenges.
Telefónica I + D employs over 1000 persons, of whom 93% hold a University degree.
Based on the criterion of geographical distribution and client proximity, there are currently four different main offices: Barcelona (2001), Granada (2005), Huesca (2004), Madrid (1988) and Valladolid (1999). In June 2002, its first subsidiary, Telefônica Pesquisa e Desenvolvimento, opened for business in Sao Paulo (Brazil), followed by the Mexican branch in Mexico D.F. (2004).
Telefónica's innovation process, which is largely based on the activities of Telefónica I+D, is based on four fundamental lines of work: infrastructures, development of new services, the deployment of the so-called "personal digital environment" and, a series of common elements which play the role of for the rest of activities. These for lines contribute to the internal evolution necessary to face the future challenges of the changing Telecom and IT panorama.
The company has also in depth expertise in formal methods, object oriented design and programming systems, software engineering tools, real time systems, data bases and knowledge bases, A.I. tool kits, knowledge representation and reasoning, man machine interface, and software tools for network simulation. The company has a computer center, a micro software development tools group, and special laboratories, such as an optical transmission one, Smart Home one, Human Factors, or a video services laboratory.
All the activities in Telefónica I + D are carried out conforming to an in house Project Development and Management Methodology, which has been awarded an ISO 9001 Certification since 1994, updated to the new ISO 9001:2000 in 2001. Telefónica I+D respect to the environment is reflected on the creation of an Environmental Management System, awarded the ISO 14001 Environmental Certification since 1998 and a large amount of prices to innovation and excellence. Telefónica I+D is aware of the impact of its activities in terms of social and environmental impact in the markets where it operates, its Management System and Strategic Plan define and provide the guidelines for corporate responsibility and sustainability.
Telefónica I + D is and has been involved in a number European projects: RACE I, RACE II, ESPRIT II, ESPRIT III, TEN-IBS, TEN-ISDN, CTS, COST, EURESCOM, BRITE, ACTS, IST, Ten-Telecom, e-Ten, e-Content, EUREKA (ITEA, MEDEA & CELTIC). The Telefonica Group participates in The principal standardisation fora for fixed, mobile and wireless communications, convergence, etc. (ITU, GSMA, MEF, OMA, MPF, IEEE, IETF, IPv6Forum, W3C, TISPAN, OSGI, ...).
Key personnel:
Santiago Rouco (Telecommunication Engineer, 1991) is an expert in application security and risk analysis. Among other tasks, he directed the development of the Business Continuity Plan (BCP) and Disaster Recovery Plan (DRP) for Telefónica de España and coordinated the development of a risk analysis web tool for the Network Infrastructure Department of Telefónica de España. He currently leads the Security Architecture Dep't in Telefonica I+D.
Vicente Segura (Telecommunications Engineer, 2001) has been involved in the development of the BCP and DRP in Telefónica de España. He also has long experience in the design, implementation and evaluation of secure internet services architectures, risk management and analysis, and security audits.